River Fish
River Lamprey
These come to rivers every year from the sea, and inhabit sandy bottom rivers or stony bottom rivers, they have a clamp to suck on dead fish, almost like a leech.
Eel
these are extremely annoying to catch if you have not realised you have got one. They can grow up to 23lb and they live in lowland rivers , and are caught and made into an european delecacy eel soup
Salmon
These fish are one of the most popular fish of our rivers, they are migratory and can come from the Atlantic pulled by the earths magnetic feild back to our rivers again, the river tyne has seen an increase of numbers, seeing as its a heavily polluted river, Keilder water realeses salmon part of a hatching programme, you can see salmon jumping up the wear at hexham at november time
Trout
Another member of the salmanoids, these are much harder to catch compared to the brother Rainbow Trout, they come in array of colours ranging from blues to yellows and most commonly brown, The river tweed is famous for the amount of wild brown trout which are resident.
Rainbow Trout
Similar to the brown trout, these fish are stocked and farmed, these originated in canada and were imported as eggs in the 1880's. These fish are easier to catch as there are more, spinners work well with the rainbow trout and they accelrate from 0-30 mph in a second, this is why rainbow trout are such a good game fish.
Char
These fish are most common in scotland as they normaly come from the artic. The lake distric has had a rise in char found in Hawes Water.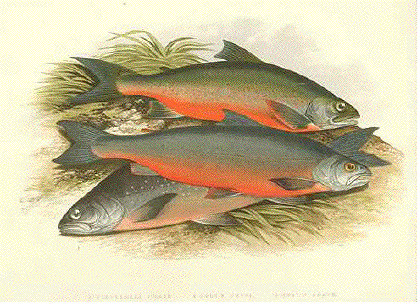 Vendace
These fish are extremely rare, and i extinct in many lakes due to pollution in water, there are only 2 lake known to have a decent popullation of vendace in the water.
Powan
These are just like herring, but known as the 'cheap mans herring '. these were stocked in scotland like herring but were sold for less they can still be found in cumbrian lakes
MORE SPECIES COMING SOON SUCH AS....
Grayling
Smelt
Perch
Ruffle
Zander
Bullhead
Carp
Barble
Gudgeon
Tench
Bream
Bleak
Roach Rudd
Chub
Dace
Pike
Sturgeon
And More Sea Fish